One day trip to PortAventura from Barcelona (BCNPORTA)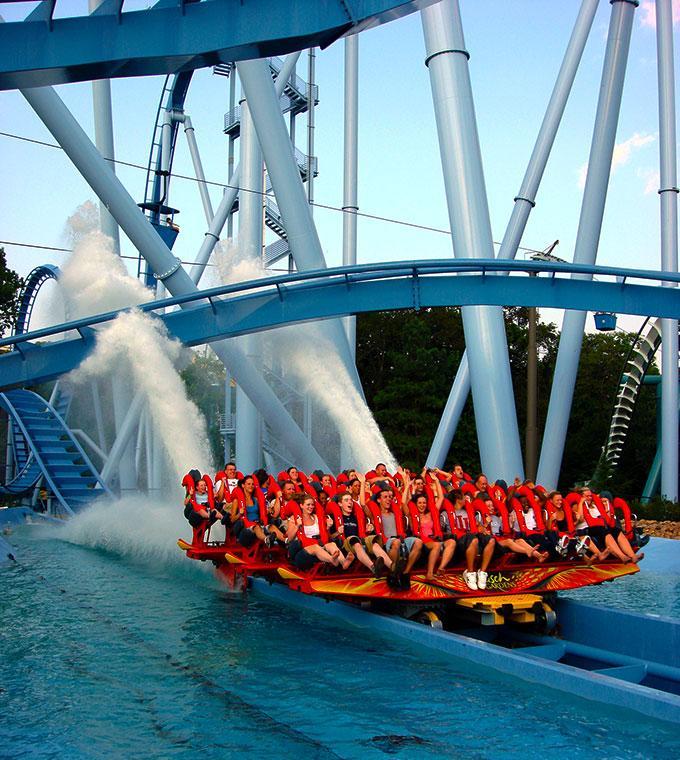 Go on an unforgettable adventure in the world where you will visit exotic places like China, Polynesia, Far West, México, Mediterranean and Sésamo Aventura, the family area set in the world of Sesame Street. In each area you expect endless attractions, shows, shops and theme restaurants.
PortAventura Park offers 40 attractions that will delights adrenaline junkies. Discover Angkor and you embark on a fantastic adventure in lost kingdom, go for the 8 loops of vertigo of Dragon Khan, rising to 100m free drop test Hurakan Condor or try Furius Baco, the fast shuttle that will launch you from 0 to 135km/h in less than 3.5 seconds. Not forgetting, of course, the dramatic fall from 76m awaits you in the highest roller coaster in Europe: Shambhala!
Attractions and more! In PortAventura Park you can enjoy every day up to 40 dazzling shows: cancan dancing, acrobatics, tribal dances of Polynesia and humor. Do not miss Generation Forever, a fantastic display of music, dancing, lights and stunts in the Great Imperial Theater. To begin!
Inclusions:
Air conditioned motor coach
Entrance to Port Aventura Park
Exclusions:
Lunch or other services not specified above
Hotel pickup and drop-off
Period:
7.04.2017 - 07.01.2017
7.04 - 17.04: Mon and Sat
18.04 - 14.05: Sat
15.05 - 18.06: Mon, Sat
19.06 - 11.09: every day
12.09 - 01.11: Mon, Tue, Fri, Sat
2.11 - 24.12: Sat
25.12-07.01: Mon, Fri
Departure Time: 09:30h
Check in time: 15 min prior the departure
Departure from Barcelona at 09.30 AM – Arrival to PortAventura Park at 11.00 AM.
Departure from PortAventura Park 08.00 PM – Arrival to Barcelona at 21.30 PM.
From 24Jun to 10Sep:
Departure from Barcelona at 11.00 AM – Arrival to PortAventura Park at 12.30 PM.
Departure from PortAventura Park at 10.00 PM – Arrival to Barcelona at 11.30 PM.
Duration: 12 hrs approx.
Departure&Arrival:
JULIA TRAVEL Office – Balmes, 5 (Barcelona)
Buy tickets online and skip the line!

Tickets will be sent via e-mail!