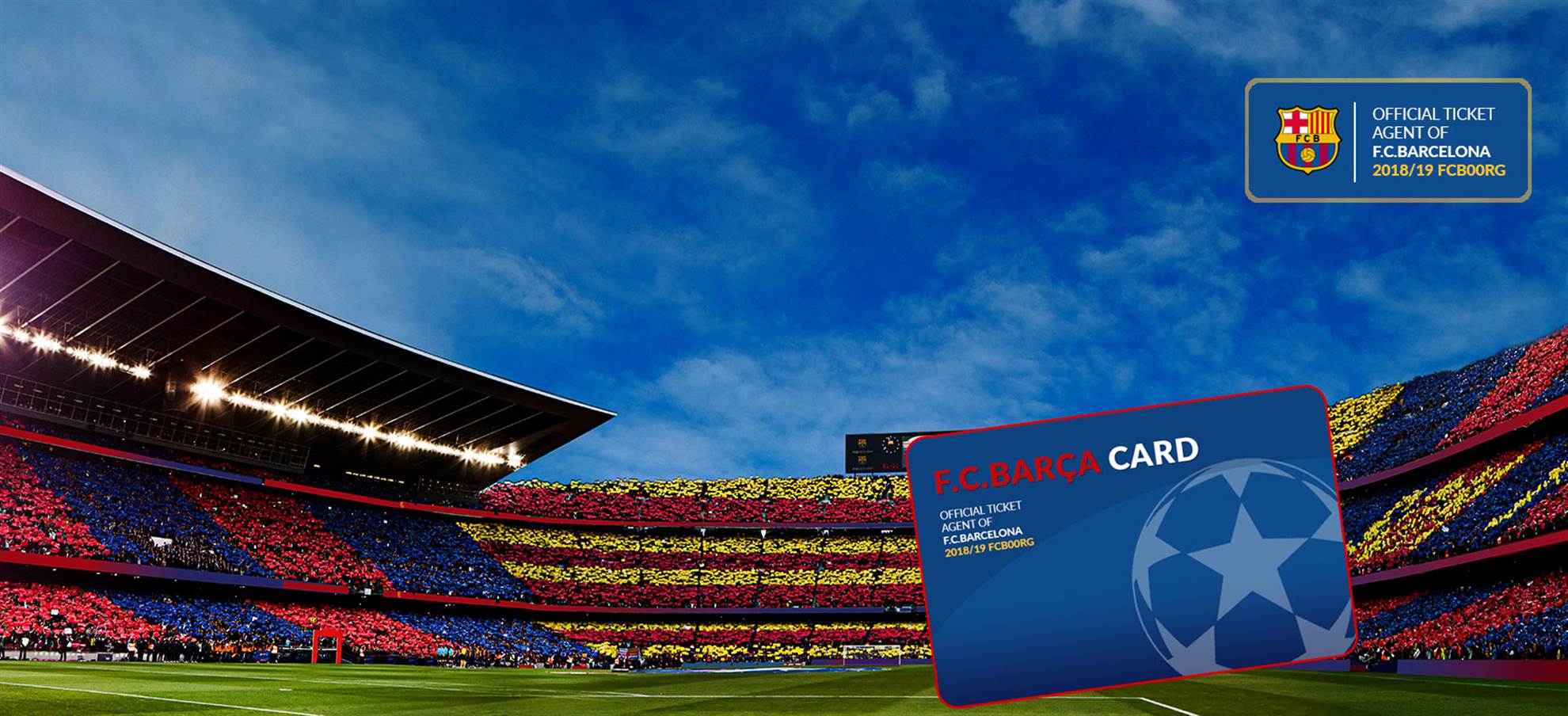 FC BARÇA CARD ´A perfect holiday day out at Camp Nou´
To product
The ́FC Barça Card ́ is the must-have for the real FC Barcelona fans!
Includes
Open tickets for the Camp Nou Experience (go whenever you want): includes museum and stadium visit
Virtual Reality Glasses
Official FC Barcelona Scarf
10% discount on a FC Barcelona shirt
Exciting and vivid Audioguide in the following languages: English, French, German, Italian and Portuguese
Advantages
Skip the line tickets, save a lot of time at the stadium!
Enter the stadium as a real fan with a cool scarf for every person
100% mobile
Save money when buying a football shirt
Experience what players feel with the Virtual Reality Glasses

Open tickets Camp Nou Experience
The Camp Nou Stadium is the arena where star players like Messi show the best football of the world. The stadium is one of the biggest highlights of the city.


With the Camp Nou Experience you can explore all the different parts of the Camp Nou like the stands, the field, the dug-out, the tunnel, a dressing room, press-room, mixed zone, the numerous trophy ́s and much more!


Many tourists visit the stadium daily. To spread the amount of visitors among the day FC Barcelona choose to work with time slots. The FC Barça Card offers Open Tickets so you can decide when to go and what time to go.


Virtual Reality Glasses
After picking up the Virtual Reality Glasses at the stadium you will feel like a real FC Barcelona player. Step inside the shoes of Leo Messi and join a first team training session. Or even more exciting: be part of a match in Camp Nou. In the special Virtual Reality Arena you can experience it all. One thing is for sure, you will never forget this experience!
Official FC Barcelona scarf
The FC Barça Card includes an official scarf of the club which you can pick up before or after your visit to the Camp Nou. How funny and how big a fan are you when everyone is walking around with this scarf around their neck to support the FC Barcelona team! It also includes a 10% discount on a football shirt of FC Barcelona.
Audioguide of FC Barcelona
Get to know the stadium, the players and the museum with the audioguide of FC Barcelona. Available in 5 languages.
How does it work?
Select your date of visit and you will receive everything by email. 100% mobile (show them on your mobile) and with a clear description how everything works when you arrive at the stadium.
You can access the Camp Nou Experience any date you want after 13.30h. This is a restriction of FC Barcelona to make sure you can enjoy your stay in the museum without it being too busy. This is valid from 1st of July till 1st of September.
Força FC Barcelona! Make your visit to the Camp Nou unforgettable!